The Bonita High School Girls 4×400 relay team are California State Champions. Amari, Sami, Sierra and Alisha made school history when they finished first in the California State CIF Track and Field finals on June 2nd, 2018 with a time of 3:42.62 beating their previous record set two weeks ago. Rachel D. and Megan S. were the alternates and trained with the team all season. This is Bonita's first state championship in a track event in almost 50 years (1970, Allen Carter: CIF 100 meter Dash State Champion; Running Back, USC; New England Patriots, NFL). The California State Track and Field Finals which celebrated its 100th anniversary this week, are a unified meet meaning all divisions compete against each other (Why California's track finals, in their 100th year are unmatched in U.S. High School Sports).
Full results for the Girls 4×400 Meter Relay Varsity – Finals are available. https://t.co/qJTPAZj52t

CIF California HS State Meet pic.twitter.com/2lQj6ASbb0

— Record Timing (@RTSPT) June 3, 2018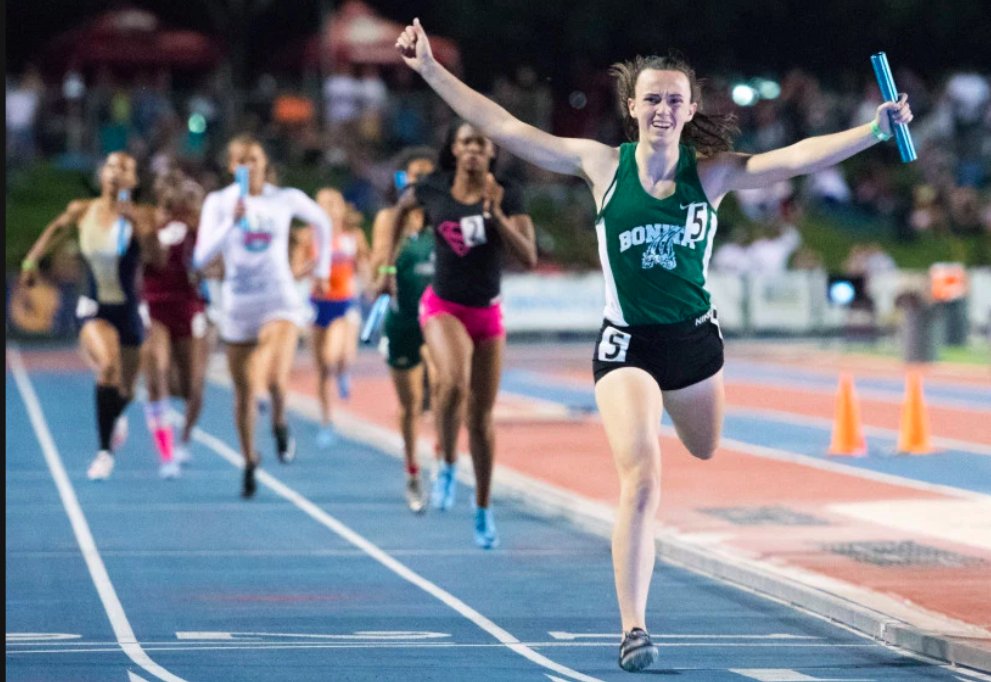 Sami R finishes final leg of 4×400 relay in California State Championship Track Meet (Photo Courtesy of Josh Barber)
Watch their incredible victory at the state finals:
Bonita, the state leaders in the 4×400 relay, culminated its strong success with a 4:42.62, lowering the state-leading mark and slotting at US #12. Serra was 2nd (3:44.37) and Chino Hills 3rd (3:45.44). Junior Sammie Riggs anchored the victory for Bonita.
We're from a small school for a small town. We're here to say you need to mention Bonita. Our hard work needs to be seen, and we are here to compete." Sami R.
Girls 4×400 meter relay | Congratulations to Bonita and all placers 🏅 Full results here ▸▸ https://t.co/nWeFzgwtba#CIFState pic.twitter.com/AqLIpNIMHU

— CIF State (@CIFState) June 3, 2018
Bonita's time a season by best by more than 2 seconds (3:44.92 at CIF-SS D2 final)

— Keith Lair (@KeithLLair) June 3, 2018
The 4×400 victory is the first Bonita girls @cifstate state title and third in school history, first since 1970 when Allen Carter (RB who played football at USC) won 100 yards.

— Keith Lair (@KeithLLair) June 3, 2018
Girls 4×400 Relay Win Masters Will Compete for State Championship
Despite illnesss and injury the Girls 4×400 team won the Southern Section CIF Masters race this past weekend with their second fastest time of the season. Next week they will be competing for the California state Championships.
Details of the Masters Race including video interview of the girls after the race can be found on Mile Split.
Bonita Boys Track Athletes Compete in CIF SS Finals
The following boys also completed in CIF finals:
David H. – 7th in the 3200m
Zach R. – 4th in the 110m High Hurdles
JT H. – 4th in Long Jump
Girls 4×400 Relay Team Broke DII State Record, Ranked First in California, 20th in Nation
The girls Bonita High School track team completed an outstanding season finishing 3rd in total team points at the CIF Divsion 2 finals at El Camino College in Torrance this weekend. The 4×400 team of Amari, Sami, Lisha and Sierra finished 1st in the state and broke the Division 2 record with a time of 3:44.92. This is the 20th fastest time in the nation this year (out of 11,323 teams).
Alisha also broke the school record in the Long Jump.  As a Freshman, she is 10th out of 13,713 Freshman Long Jumpers in the United States. She has the 2nd fastest 400m Freshman time in California this year.
Bonita Track Athletes Moving on to CIF Masters Meet

JT H. – Long Jump
Amari P. – 200m, 4 x 400m Relay
Sami R. – 4 x 400m Relay
Sierra J. – 4 x 400m Relay
Alisha W. – Long Jump, 4 x 400m  Relay